03 November 2011
Do you like this story?
About Snapdeal:
SnapDeal is Indias largest online local daily deal website offering daily deals on restaurants, spas, fitness centers etc in cities around India.
Snapdeal – Get daily best deals, great discounts up to 90% off on restaurants, pubs, spas, movie tickets, dance clubs & more. Attractive Deals Everyday, in Your City, Subscribe Now! Try Snapdeal Free!
Snapdeal.com is an exciting website offering 50% – 90% off daily discount deals in major cities of India. Get best deals in Delhi, Kolkata, Mumbai, Bangalore, Chennai, Hyderabad, Jaipur, Pune, Chandigarh, Ajmer, Kochi, Lucknow, Agra and more cities across India.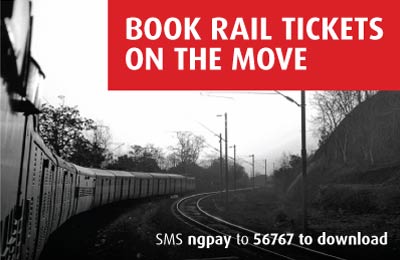 About Deal :
ngpay is an authorized mobile application to pay for your train tickets, movie tickets and many more via mobile.
It is very easy to use ngpay for transactions and its also very safe.
Snapdeal is giving a deal where you will get Rs.100 cash back on every trian ticket you book via ngpay. This is very good deal for all those who love to travel in trains.
How to get this deal :
Although, this deal is available on snapdeal for Rs.15 (Very cheap). But still, you can get 3 coupons worth Rs.45 for free using the below steps :
Click on buy now.
Enter 3 in quantity and then login to your snapdeal account.
Now in coupon or promo code field, write NET50 (Snapdeal latest promo code for getting Rs.50 off on every deal) to get your deal for free. :)
You will instantly get 6 SMS on your mobile phone and 4 emails on your mail id with coupons.
Now visit ngpay.com with your mobile phone and download its application. Once installed, you can book tickets using Debit Card, Credit Card, Netbanking and Itz Cash.
You will get your cash back of Rs.100 within next 10 days in the way you used to pay. (For eg : If you payed via Debit card, then you will recieve Rs.100 in it).
Enjoy these kinda offers.
Note: This deals coupons ae valid only till November 30. ngpay can be used to book movie tickets and many more tickets and shopping via mobile.
This post was written by: Piyush Khandelwal
Piyush Khandelwal is a student blogger. He Loves Freebies and thinks that everyone should get a chance to get them and test them before they actually waste money in the Market. Along with Freebies, he loves to write on Daily Deals, Cool Contests, Coupons, Vouchers, Giveaways and all the related topics. Follow him on Twitter