22 January 2012
Do you like this story?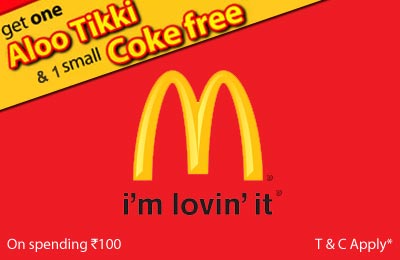 This deal has been brought to you by SnapDeal.
How to get it FREE :-
Click here to go to special page to get your coupon code. (you can use this coupon to buy this deal 5 times or other deals).
Verify your mobile to get the coupon code.
Click here to go to this deal page.
Buy the deal and apply the coupon you got in the first step.
Thats it. You will get it free!
Reasons to buy
Food joint that perfectly suits Indian tastes and preferences
Wide network of outlets throughout the country
Offers scrumptious burgers, fries and lot more
Excellent service
Voucher can be redeemed at any of the McDonalds' family restaurants located in North and East India
The Fine Print
Taxes extra
Printout of the voucher is mandatory. SMS vouchers will not be accepted
Printouts will be retained by McDonald's
One voucher valid per bill. Multiple vouchers accepted for multiple bills
Each voucher is valid for one time purchase only i.e two or more vouchers cannot be clubbed together on the same purchase
Redeem the voucher in a single visit
Offer valid on your purchase worth Rs. 100
Can purchase multiple vouchers for gifting
Voucher cannot be used for taxes, tips or prior balances
Photocopies/ duplicates or torn vouchers are not valid and will not be accepted
Cannot be redeemed with cash
Offer valid across McDonald's family restaurants (North & East) only for in-store (dining) and take-away from the outlet
Offer not valid on McDelivery and on Breakfast menu
In case of any dispute or difference in respect of the voucher, the decision of McDonald's shall be final and binding on all concerned
McDonald's shall not be responsible in any manner whatsoever to the user or any other third party for any misuse of the voucher
Enjoy the FREE DEAL.
This post was written by: Piyush Khandelwal
Piyush Khandelwal is a student blogger. He Loves Freebies and thinks that everyone should get a chance to get them and test them before they actually waste money in the Market. Along with Freebies, he loves to write on Daily Deals, Cool Contests, Coupons, Vouchers, Giveaways and all the related topics. Follow him on Twitter