07 March 2012
Do you like this story?
Hushbabies is a great store for shopping baby products. And now you all can avail 50% off on everything @ Hushbabies.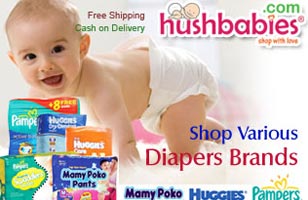 Reasons to buy
India's favourite online baby store.
Range of products from diapers to strollers, delivered at your doorstep.
Hundreds of excellent brands and thousands of products to choose from.
Free home delivery.
Cash on delivery available.
How to buy the coupon for just Rs.49 :-
Click here to go to special snapdeal page and get you Rs.50 Flat off coupon code. [You need to verify your mobile number in order to get the coupon, make sure you havent activated DND on your number]
Click here to go to Snapdeal Deal Page.
Click on buy now and add that product to your cart.
At the time of checkout, apply the coupon you got in Step 1.
Thats all.
Now go to hushbabies.com and shop anything @ 50% off using the coupon you will get from snapdeal.
Note : You can buy maximum of Rs.1000 worth products using this coupon.
This post was written by: Piyush Khandelwal
Piyush Khandelwal is a student blogger. He Loves Freebies and thinks that everyone should get a chance to get them and test them before they actually waste money in the Market. Along with Freebies, he loves to write on Daily Deals, Cool Contests, Coupons, Vouchers, Giveaways and all the related topics. Follow him on Twitter