10 January 2012
Do you like this story?
One way of getting free things is winning contests and that's why every time in "Cool Contests", we bring a list of latest ongoing contests from the world of internet. Check out some of the latest
RealIndianFreebies
discoveries and enjoy.
Subscribe to our mailing list to get these kinda posts in your mail everyday.
1) KFC India Fiery Grilled Contest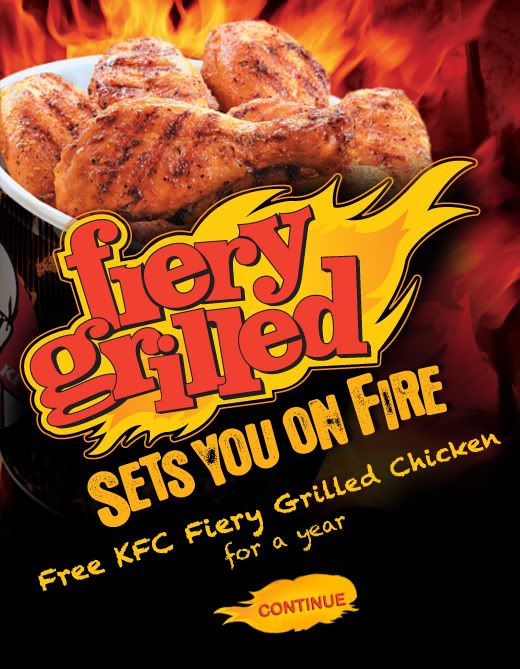 KFC is everyone's favorite to get a change in your eating habit.
What if you get a FREE Supply for one year from KFC.
Its not a Joke Guyz. Take part in this small contest and you have a chance to win 1 year FREE Supply.
How to win :-
*
Click here
to go to their fan page.
* Like that page and continue.
* Take part in that and wait for the results!
2) Hyundai India Auto Expo Contest :-
Catch the Buzz of Hyundai Pavilion at Auto Expo 2012 with Digital Jockeys & win ipad 2.
How to take part :-
* Like the page.
* Take part and wait for results.
3) Be the Face Of Tisky - Contest
Tisky is the best Ribbon Brands (As it says).
It has launched a contest on its facebook page where you stand a chance to be there Advertisement face for the year.
How to take part :-
*
Click here
to go to their fan page.
* Click on Like.
* Upload your pic as it says.
* Track their page to see if you are a winner or not.
4) AutoX Poll Contest : Lots of freebies to be won - Contest
About AutoX : -
Fuelled by passionate motorsport junkies and expert auto journalists, autoX brings alive excitement and thrill through its content. This is where the fun begins.
They have launched a unique contest on their facebook page where you can win lots of freebies from them.
How to take part :-
*
Click here
to go to their facebook fan page.
* Like their facebook fan page.
* Take part in Poll to win lots freebies.
5) Survivor Challange - Contest
Watch the webcast live on Facebook at 3 pm tomorrow and answer 4 questions to stand a chance to win an iPhone4S.
How to enter the contest :-
* Watch the video carefully.
* Follow the steps to win.


Enjoy the contests guyz...
Do keep visiting for more updates like this one.
This post was written by: Piyush Khandelwal
Piyush Khandelwal is a student blogger. He Loves Freebies and thinks that everyone should get a chance to get them and test them before they actually waste money in the Market. Along with Freebies, he loves to write on Daily Deals, Cool Contests, Coupons, Vouchers, Giveaways and all the related topics. Follow him on Twitter